Nestled in a little part of Koh Samui, this place is paradise. As soon as you get to Kamalaya you immediately feel relaxed. The staff, the ambiance…bliss!
Some have referred to Kamalaya as 'the healing hotel' – a name tag I believe they can proudly wear!
I just love going to Koh Samui – it would have to be one of my favorite airports in the world! As soon as you walk off the plane you feel like you are on holiday. It's so very tropical.
Arriving quite late, we were immediately shown to the room where we had room service (that we had ordered while transferring from the airport) waiting for us. Such fresh, wonderful ingredients. Such amazing combinations. The other thing I just love about Thailand is the coconuts on tap – truly a gift from god!
Waking up on our first day to the sounds of the waves, we were staying in a beach front villa and I couldn't wait to open the windows and see what lay before me. I wasn't disappointed. Our pool, our seated area, our view…it was all simply spectacular.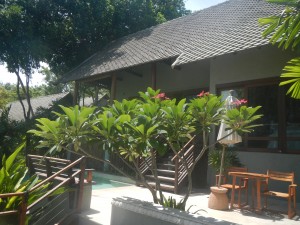 Our pool and beach front villa at Kamalaya
Heading straight to the gym for our morning workout, I was actually surprised at how well set up it was. The only complaint is that there was no wifi – I often need some inspirational you tube talk to keep me occupied on a treadmill! We also walked past the area where they have complimentary meditation and chi gong etc. I was immediately in love!
We then headed to breakfast and it must be said that even walking through the grounds is enchanting. The nature…the layout…it is a very very spiritual place. Arriving at breakfast I almost fell over! OMG! What a selection! They have even colour coded the foods that are good for weight loss programs and those you should avoid if you are looking to lose a few pounds. The fruits…the superfoods…the elixirs. At this point I had to ask…am I in heaven?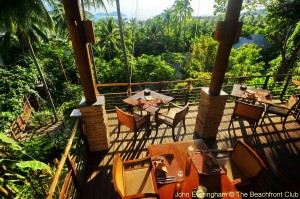 The amazing Kamalaya Cuisine is made even better with this setting.
If it couldn't get any better, we were then off to the spa for our consultation. We first had a general checkup of our blood pressure, heart rate etc and then went in to see one of the holistic doctors to talk about our spa plan for the coming days. We were only there for two days so weren't able to do the program BUT…it looked amazing. Massages, acupuncture…the lot! We did however partake in many massages AND I went wild when I saw the list of visiting practitioners! I immediately booked myself in for a Cranial sacral treatment which I simply loved. The way they can touch your body and know things about your past is a true gift. Our body really is a hard drive for our emotional experiences.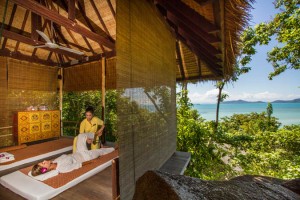 The stunning spa at Kamalaya
The days to follow were filled with amazing food, body treatments, romantic activities (wink), mediation, chi gong, reading and self discovery.
If you are travelling solo (which many people do here), Kamalaya even have a 'Community table' where you can socialize with others – it's a great way to meet new people. Alternatively, if you have a great book by your side…a table for one is absolutely possible.
Since I stayed at Kamalaya they have renovated the pool area making it even bigger and better. I have had friends that have visited Kamalaya since and come back with a look of relaxation and complete approval. It's not cheap but…many every person that has been confirms that it is worth every cent!
Whether you stay for 3 days or a month…invest in yourself (even if it means buying a few less handbags/shoes)…give yourself this experience. It really is one of a lifetime!
More information on Kamalaya can be found on their website. Click here.
Why not listen to what others have to say about it on the trusty trip advisor! Click here.